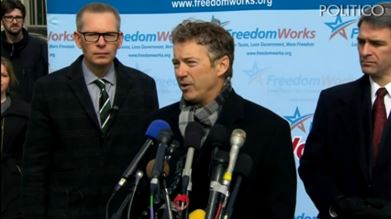 The GOP primary race is getting more competitive by the day in New Hampshire, according to a new poll conducted by Bloomberg Politics/Saint Anselm New Hampshire. While Hillary Clinton is still the Democrat favorite by far with 62 percent, Rand Paul and Scott Walker are tied as the GOP favorite at 12 percent each.
Jeb Bush and Marco Rubio closely trail the two frontrunners with 11 percent each.
"Clinton's strength in the primary remains historic," said Purple Insights' Doug Usher. "But she's facing the laws of political gravity among independent voters more quickly than her campaign might have hoped."

Clinton's numbers with independent voters were destined to fall at some point, Usher said, as the campaign becomes more fully formed and intensely competitive.

Among independent general-election voters in New Hampshire, Clinton is tied or nearly tied with Bush, Paul and Rubio. She does better against Walker with this group, leading 42 percent to 36 percent.

Rubio, who announced his candidacy April 13, more than doubled his level of primary support since the poll's last sample, in February. Bush, who isn't expected to formally announce until June, dropped five percentage points, his lowest level since the poll started tracking the state's voters in November.
While the short term polling shake-ups are interesting to watch, the takeaway is clear: the GOP primary is up for grabs.
Read more about the poll here.