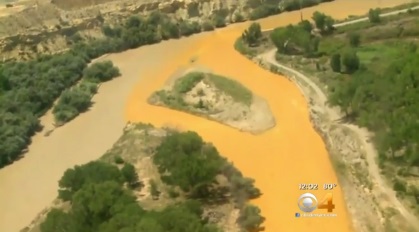 Remember back when you were a kid, and you accidentally spilled grape juice on something important like your mother's new white coat? But rather than showing her, you hid the coat to delay the punishment for as long as possible?
That's kind of what the EPA is doing with information that shows the full damages of the Animas River spill- if the spill was 3 million gallons in size, and the grape juice was toxic waste water from a century old mine.
U.S. Environmental Protection Agency officials refused for weeks to share water-quality data with their state counterparts following a blowout of toxic wastewater from a Colorado mine that fouled rivers across the Southwest, New Mexico's top environmental regulator testified Thursday. The move by federal agencies aimed to downplay the severity of the spill, hobbling the state's response to the high levels of arsenic, lead and other contaminants involved in the spill, New Mexico Secretary of Environment Ryan Flynn said.

… Flynn said the EPA's warning about the pollution came belatedly, and it was followed by incomplete testing data presented in a way that minimized the presence of contaminants above drinking-water standards. He called it a "PR stunt" by the EPA.

"It was so insulting that I just can't imagine a scientist would be involved in its development," he said of data given to the state.
This is a childish and counterproductive way for the EPA to try and play down the damage done to the Animas River. They need to take responsibility for their mistakes in an honest and transparent manner.