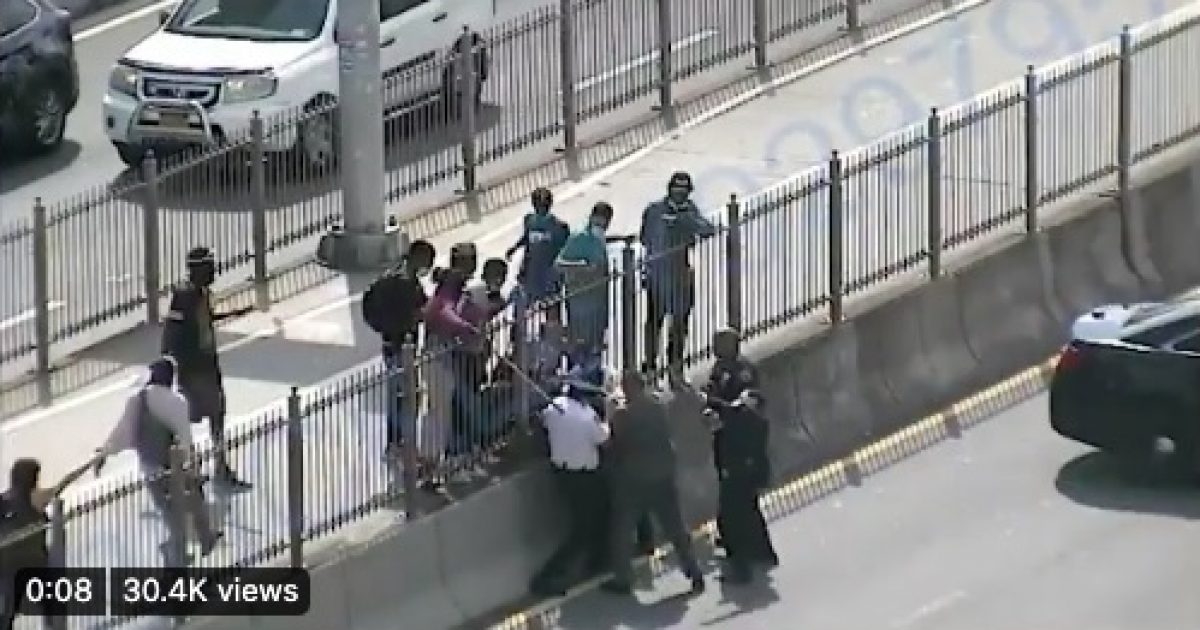 New York City police officers were violently attacked on the Brooklyn Bridge today.
Ironically, the attack occurred during a unity march calling for the end to violence in New York City.
According to a news report, counter-protesters stopped traffic and fought with police.
The New York City Police Department released a video of the attack and pictures of the injured officers.
These are the injuries our officers sustained. pic.twitter.com/KI9wQKywHH

— NYPD NEWS (@NYPDnews) July 15, 2020
Additional footage of the serious injuries our officers sustained on the Brooklyn Bridge. pic.twitter.com/Ja9lTpQu0G

— NYPD NEWS (@NYPDnews) July 15, 2020
One of those injured was the NYPD Chief of Police Terence Monahan.
Breaking News: the highest ranking member of the NYPD @NYPDChiefofDept has been attacked & assulted by protestors in NYC pic.twitter.com/csHpcyfoLF

— Rob O'Donnell (@odonnell_r) July 15, 2020
The latest attack comes as New York City Democrat Mayor Bill de Blasio doubled down on his decision to disband the police department despite a spike in shootings.
Violent crimes are significantly on the rise in New York City but de Blasio recently reached an agreement with the New York City Council to cut $1 billion from the city's police department budget.
With crime and violent shootings escalating, de Blasio continues to ignore the dire consequences of defunding and disbanding the police department.
de Blasio spoke at a press conference on Tuesday.
The New York Post reports:
Mayor Bill de Blasio on Tuesday once again decried Gotham's gun violence epidemic without offering any concrete solutions — while doubling down on the department's decision to disband its gun-hunting anti-crime unit — during another press conference attended by no members of NYPD brass.
Meanwhile, shooting violence continues to surge in New York City.
NBC New York reports:
Overall, in a little over seven months, from Jan 1. to July 12 of this year, there have been 115 fatal shooting victims and 662 non-fatal shooting victims. This is an increase from the 69 shooting deaths and the 387 non-fatal shooting victims seen during the same time period last year, according to the NYPD.
BROOKLYN OVERNIGHT: 6 shot in front of 1000 President St. 4 transported by EMS, 2 taken by car. Male 30 DOA. 5 victims are stable: Female 25. Male 19. Male 35. Female 52. @NYPD71Pct looking for 2 Male black suspects. A total of 10 shootings were reported in NYC on Tuesday.

— NYC Scanner (@NYScanner) July 15, 2020
There were 17 people shot in NYC on Monday, including a 17-year-old male victim who was shot in the head and pronounced dead. @AOC @NYCMayor

— NYC Scanner (@NYScanner) July 14, 2020
Clearly, de Blasio is on the wrong side of what's best for the streets of New York City to keep citizens and police officers safe.
Monahan commented on the disbanding of the anti-crime unit a day before his attack.
The New York Post reports:
"The disbanding of anti-crime obviously has a huge effect," Monahan said on 1010 WINS radio, ahead of de Blasio's press conference. "Those are our best cops out on the street, grabbing guns. So, there's a feeling that it's safe to carry a gun on the street. So, we are looking for ways to change that mentality out on the street."
The spike in shootings and other crimes is the result of de Blasio's failed leadership of which victims of these acts of violence are suffering the severe consequences.
Under de Blasio, New York City is in a death spiral and New York Democrat Governor Andrew Cuomo is also at fault for not removing the mayor from office.