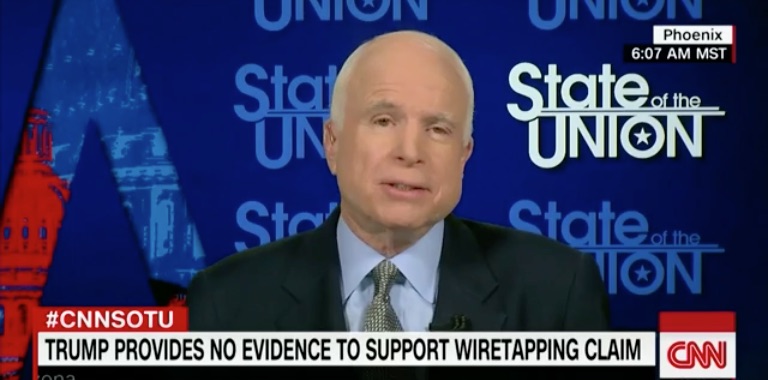 The maverick is at it again.
Appearing on CNN's "State of the Union," Senator John McCain (AZ-R) pushed President Trump on his wiretapping claim.
From CNN:
Sen. John McCain said Sunday that President Donald Trump should either retract or substantiate his claim that President Barack Obama wire-tapped him in the final weeks of the presidential campaign and added he expects more to come on Russia's meddling in the US election.

McCain said on CNN's "State of the Union" that he had "no reason to believe" Trump's allegation, which the President has not supported with any evidence and which a White House official said was prompted by a Breitbart article.
"I have no reason to believe that the charge is true, but I also believe that the President of the United States could clear this up in a minute," McCain told anchor Jake Tapper. "All he has to do is pick up the phone, call the director of the CIA, director of national intelligence and say, 'OK, what happened?'"
This is not the first time McCain surfaced on CNN to challenge Trump.
Last month, McCain aggressively criticized Trump over the president's harsh characterization of the media.
By commenting on the wiretap claim and feeding into the Democrat talking points on Russia, McCain is giving Democrats and the left-wing media air cover to blast Trump.
McCain is doing the dirty work for Senate Democrat Minority Leader Chuck Schumer (D-NY).