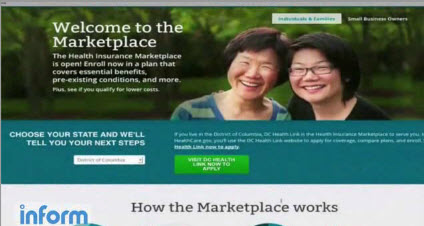 ObamaCare continues to punish older and sick Americans.
A story in Breitbart.com describes the dilemma facing a neurological patient that lost her doctors and her prescription drugs because her new ObamaCare plan does not cover her prior services.
Figueroa suffers from a disease known as Arnold Chiari Malformation and Syringomyelia. Even though the Obamacare plan she purchased assured her that she was covered, her insurance card was denied when she went to fill her prescriptions. Then she learned that none of her doctors accept her Obamacare plan. Figueroa says she cannot find a doctor who accepts her Obamacare plan; indeed, there are only six doctors in all of Staten Island who take her plan, none of whom she's been able to get appointments with.
The Weekly Standard reports some widows lost their late spouses' coverage in Alabama.
More than two dozen widows who were married to retired Madison county employees, lost their health insurance coverage earlier this year. And now one commissioner says it's time to give it back to them. The change was sparked by the new federal health care law, but whether or not coverage can actually be restored really isn't clear," said the anchor.

Says the reporter, "Madison county commissioner Roger Jones says no one realized just how much the new federal health care law would change things, especially for the spouses of some of his former employees."
These consequences confirm the real war is the one Obama waged against the sick and old Americans.