News
NYT: On Emails, Hillary Keeps Changing Her Story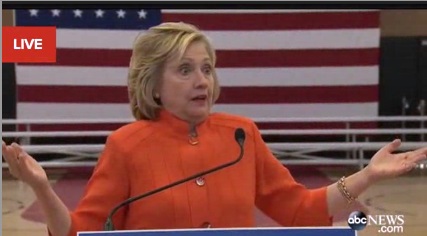 Even The New York Times admits that Hillary's email scandal story has changed over time. The liberal newspaper compiled a timeline of the "evolution" of Hillary Clinton's public explanations for using a private email server during her tenure as Secretary of State, starting with her initial statements and continuing through October. It helps to separate fact from fiction and sort through what Hillary said in her own words, and when she said it.
The article is on the longer side, but it's definitely worth the read.
Did Mrs. Clinton turn over all her work-related emails to the State Department?

INITIAL STATEMENT

March 10, 2015: "We went through a thorough process to identify all of my work-related emails and delivered them to the State Department," she said. "I have absolute confidence that everything that could be in any way connected to work is now in the possession of the State Department." — statement by Mrs. Clinton at United Nations news conference

LATER COMMENTS

June 25, 2015: It was disclosed in June that there were 15 emails between Mrs. Clinton and her longtime adviser Sidney Blumenthal, mainly dealing with events in Libya, that Mrs. Clinton did not provide to the State Department. In response to that development, a Clinton campaign official said, "We do not have a record of other correspondence between her and Mr. Blumenthal beyond that which was turned over to the State Department." The official added, "We do not recognize many of those materials and cannot speak to their origin." — The New York Times

Aug. 8, 2015: Mrs. Clinton said in a sworn statement in August, filed in federal court, that she directed that all her emails in her custody that "potentially were federal records" be turned over to the government and that "on information and belief, this has been done." — Mrs. Clinton's sworn statement

Sept. 27, 2015: "From my perspective, we have a very thorough review process that we conducted. And my attorneys supervised it, they went through everything. And what we had available at the time was turned over," Mrs. Clinton said in September on NBC. — "Meet the Press" interview with Mrs. Clinton

Analysis

The campaign has not said what happened to these emails. But its failure to turn them over to the State Department has raised questions about whether Mrs. Clinton gave the department all the messages pertaining to her work as the nation's top diplomat.
See the full timeline from The New York Times here.