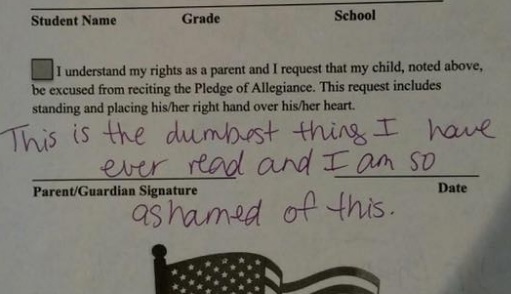 The Leon County Student Handbook in Tallahassee, Florida is giving parents a "Pledge of Allegiance" opt-out waiver in their Back To School packets. While some parents silently rolled their eyes, one uncle spoke up in protest.
Last Thursday, Micah Brienen said his niece brought home a Pledge of Allegiance request for her parents to sign and return. The form reads, "I understand my rights as a parent and I request that my child, noted above, be excused from reciting the Pledge of Allegiance. This request includes standing and placing his/her right hand over his/her heart."

Brienen's sister-in-law wasn't pleased with the form her daughter was given and had the following response in the line that she was supposed to sign.

"This is the dumbest thing I have ever read and I am so ashamed of this."
Here is a picture of the pledge:
Common sense may be on the ropes, but thanks to people like Micah Brienen, it's not dead!