News
BleachBit Trolls Hillary Clinton with New Product
Remember this? It's the moment Hillary is asked if her server was wiped clean…
"Like, with a cloth or something?"
Yeah. That moment.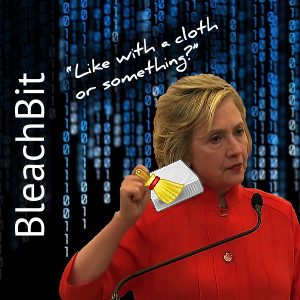 We later learned that Hillary's servers had not been wiped clean "with a cloth," but with the incredibly powerful BleachBit software. As it turns out, BleachBit has the most brilliant marketing team on the planet.
The company's latest product? A screen cleaning "Cloth or Something." Literally. It's called a "Cloth or Something." You can purchase one for as little as $5. But you're going to have to wait a while for delivery.
According to the company's website, the Cloth or Something is so popular, they're not currently able to keep up with demand:
(NOVEMBER 2, 2016) ORDER VOLUME IS EXTREMELY HIGH.Please allow patience to fulfill your order. I am sold out and am working with two suppliers to get more cloths. I expect to get more in stock November 8 and 14, and I will start shipping them then. I am not efficient like Amazon Prime, and I sincerely apologize. It may take weeks to catch up, but I hope to ship today's orders by about November 19 on a first-come first-serve basis. I am hiring contractors to help fulfill orders, and I will get them delivered. I will email you a shipping notice when your order ships.
Well done, capitalism. Well done, BleachBit.