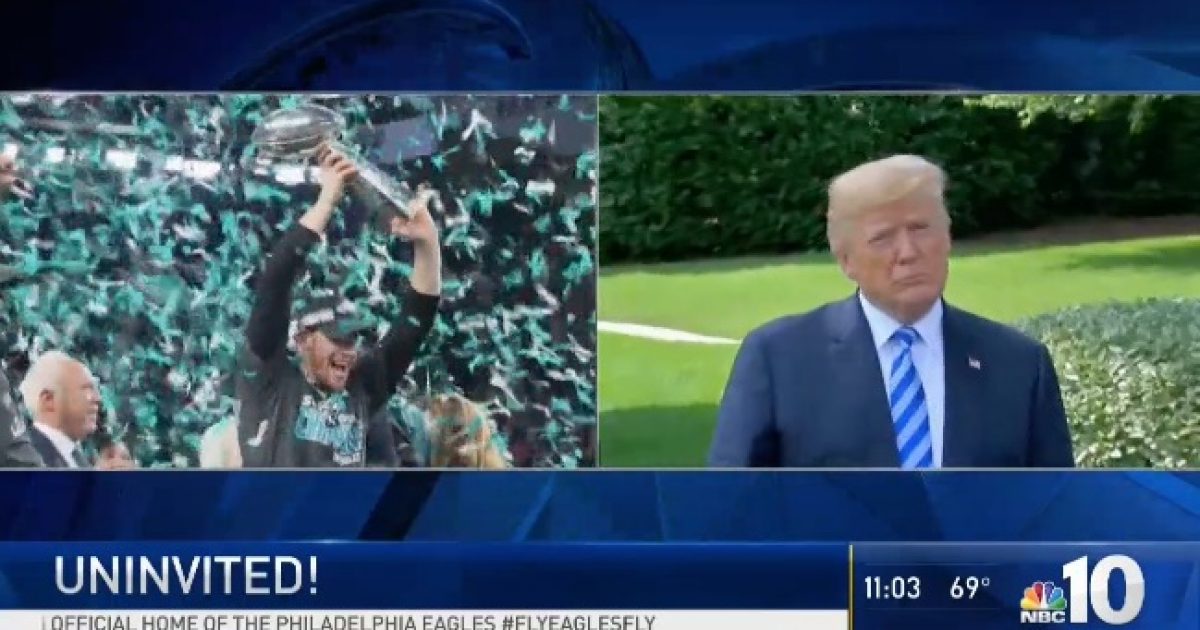 President Trump pulled a planned White House visit by the Super Bowl-winning Philadelphia Eagles.
The Eagles were set to attend the White House in recognition of winning the NFL championship but President Trump canceled the invitation over the National Anthem controversy.
In addition, some of the Eagles players were planning to boycott the White House visit.
NBC10 reports:
Less than 24 hours before the Super Bowl champion Philadelphia Eagles were set to visit the White House, President Donald Trump rescinded their invitation, citing national anthem protests and boycotts from some team members.

"[The Eagles] disagree with their President because he insists that they proudly stand for the National Anthem, hand on heart, in honor of the great men and women of our military and the people of our country," Trump said in a statement released Monday evening. "The Eagles wanted to send a smaller delegation, but the 1,000 fans planning to attend the event deserve better."
President Trump provided his perspective on the Eagles in a Tweet:
The Philadelphia Eagles Football Team was invited to the White House. Unfortunately, only a small number of players decided to come, and we canceled the event. Staying in the Locker Room for the playing of our National Anthem is as disrespectful to our country as kneeling. Sorry!

— Donald J. Trump (@realDonaldTrump) June 5, 2018
The story notes some of the Eagles were looking forward to attending the White House ceremony including the team's head coach Doug Pederson and quarterback Carson Wentz.
Philadelphia Mayor Jim Kenney blasted President Trump in a Tweet:
"Disinviting them from the White House only proves that our President is not a true patriot."

Philly Mayor Jim Kenney releases statement on White House canceling Eagles visit.https://t.co/M5No2rMKFX pic.twitter.com/weWyiTvjHB

— CBS Philly (@CBSPhilly) June 5, 2018
President Trump made the right move by canceling the Eagles' visit to the White House.
The president denied the left-wing media an opportunity to cover the players that were going to boycott the event.
Instead, the media will report on the reason for President Trump's decision which is support of the nation's flag and support of the U.S. military.
Once again, President Trump is showing leadership.