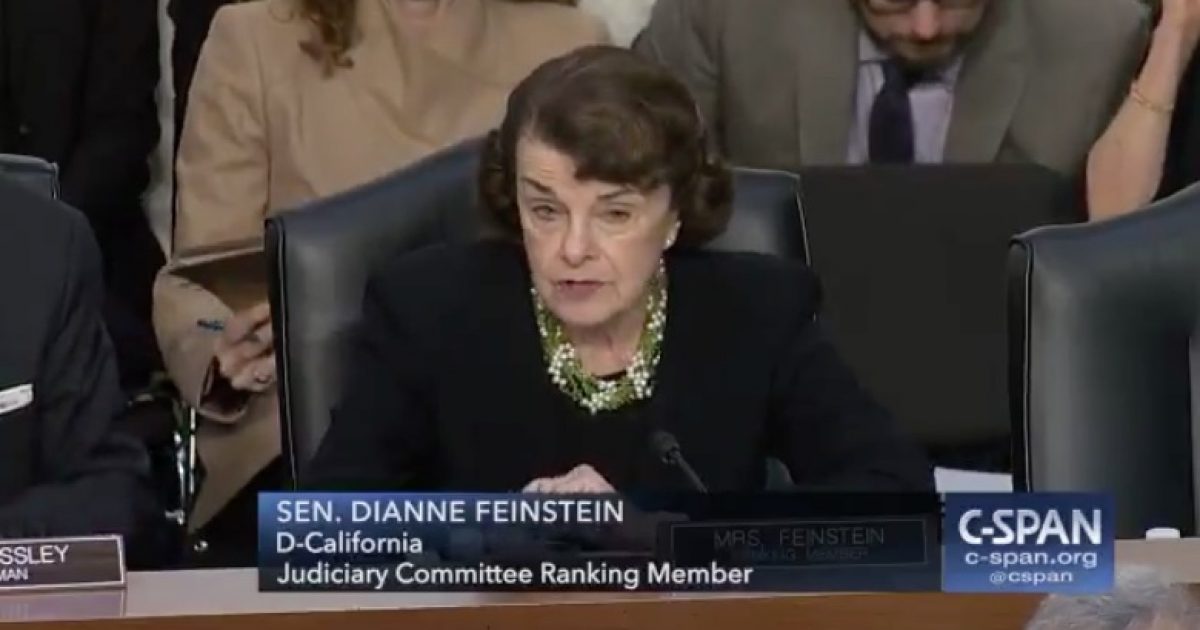 California Democrat Senator Dianne Feinstein is facing criticism over the way she handled a letter from a woman accusing Judge Kavanaugh of sexual misconduct.
Feinstein recently announced she gave the FBI a letter from the unnamed accuser.
The New York Times reports:
The statement by Senator Dianne Feinstein of California came a week before the Judiciary Committee is to vote on his nomination. "I have received information from an individual concerning the nomination of Brett Kavanaugh to the Supreme Court," Ms. Feinstein said in a statement. "That individual strongly requested confidentiality, declined to come forward or press the matter further, and I have honored that decision. I have, however, referred the matter to federal investigative authorities."

The information came in July in a letter, which was first sent to the office of Representative Anna Eshoo, Democrat of California, and accuses the judge of sexual misconduct toward the letter's author, a person familiar with the letter confirmed.
The timing of Feinstein's decision was criticized by Republicans and her Democrat political rival California state Senator Kevin de Leon.
The Sacramento Bee reports:
But while most Democrats, even ardent critics, have declined to criticize Feinstein for her handling of the letter and its sensitive subject matter, her 2018 election opponent says it's evidence of "a failure of leadership."

"The American people deserve to know why the Ranking Member on the Senate Judiciary Committee waited nearly three months to hand this disqualifying document over to the federal authorities and why Sen. Feinstein politely pantomimed her way through last week's hearing without a single question about the content of Kavanaugh's character," California state Sen. Kevin de León, a fellow Democrat, said in a statement.
de Leon slammed Feinstein in a Tweet:
My statement after learning that Senator Feinstein withheld a sexual assault allegation from the Senate Judiciary Committee. pic.twitter.com/qPEYgnhoip

— Kevin de Leόn (@kdeleon) September 14, 2018
George Washington University law professor Jonathan Turley also criticized Feinstein:
Tossing anonymous, undetailed allegations over the transom shortly before a vote is a new low. The high ground in Washington always has been measured in millimeters, but it is getting harder and harder to discern. https://t.co/mttFrzfgxb

— Jonathan Turley (@JonathanTurley) September 14, 2018
Feinstein will compete against de Leon for the Senate seat in the November elections.
The Los Angeles Times reports:
Feinstein and De León will square off in a contest that will pit her decades of political strength as a moderate against his potential appeal to progressives, unaffiliated voters and Latinos.

Much of the race will probably focus on Feinstein's resistance, or perceived lack thereof, to the Trump administration. Liberal activists criticized Feinstein last fall for indicating she could work with the administration, though her tone has hardened in the last year as she has more vocally opposed the president's policies.
The 11th-hour release of information accusing Kavanaugh of sexual misconduct illustrates the political nature of the attack.