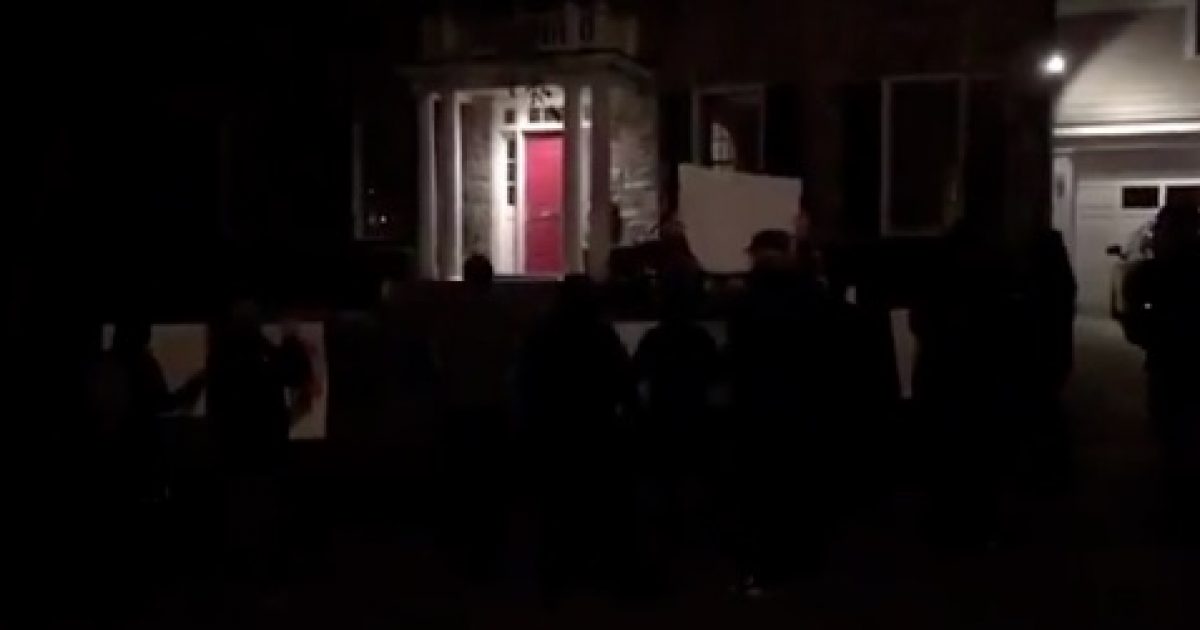 Intimidation tactics from the left-wing mob are on the rise and are becoming more aggressive.
Fox News host Tucker Carlson and his family were targets of Antifa group Smash Racism DC, a group known for harassing and intimidating well-known Republicans.
The Washington Post reports:
Fox News host Tucker Carlson was at his desk Wednesday evening, less than two hours before his 8 p.m. live show, when he suddenly started receiving multiple text messages.

There was some sort of commotion happening outside his home in Northwest D.C.

"I called my wife," Carlson told The Washington Post in a phone interview. "She had been in the kitchen alone getting ready to go to dinner and she heard pounding on the front door and screaming. … Someone started throwing himself against the front door and actually cracked the front door."

His wife, thinking it was a home invasion, locked herself in the pantry and called 911, Carlson said. The couple have four children, but none were home at the time.

But it wasn't a home invasion. It was a protest.
A video of the protesters captured about 20 people outside of the Carlson home with chants of "We know where you sleep at night."
"Tucker Carlson, we are outside your home," one person could be heard saying in the since-deleted video. The person, using a bullhorn, accused Carlson of "promoting hate" and "an ideology that has led to thousands of people dying."

"We want you to know, we know where you sleep at night," the person concluded, before leading the group to chant, "Tucker Carlson, we will fight! We know where you sleep at night!"
https://twitter.com/Breaking911/status/1060329164367167488
In September, Smash Racism DC also harassed and heckled Republican Senator Ted Cruz and his wife while they were in a Washington, DC, restaurant.
From The Washington Post:
Sen. Ted Cruz (R-Tex.) had not yet removed his overcoat. He and his wife had not yet reached their table, which sat set and ready for them just a few paces away: a cream-cushioned booth, as reserved. But the Cruzes had not ordered all this chanting.

"We believe survivors. We believe survivors," sang the crowd that had materialized around the couple. There were perhaps a dozen of them. A moment earlier, they had been any other patrons at Fiola, a $145 set-price Italian restaurant a mile from the U.S. Senate building. Now they were a Monday night flash mob with cellphone cameras.
Calls for harassment and uncivil behavior by Democrats toward Republicans has fostered an environment for in your face protests.
California Representative Maxine Waters sounded the alarm for supporters to harass and intimidate Trump cabinet officials over the president's immigration policy.
From Real Clear Politics:
She said that there should be "no sleep, no peace" for the people responsible who are for the separation of children from their parents that was part of the recent "zero tolerance" immigration policy.

Waters finished with a call to action: "If you see anybody from that cabinet in a restaurant, in a department store, at a gasoline station, you get out and you create a crowd. You push back on them. Tell them they're not welcome anymore, anywhere!"
New Jersey Senator Corey Booker told an audience, "Please, get up in the face of some congresspeople." Watch video.
Former presidential candidate Hillary Clinton went on CNN and stated Democrats can't be civil toward Republicans (watch video below).
Hillary Clinton: "You cannot be civil with a political party that wants to destroy what you stand for" https://t.co/8QI5BoEN6t pic.twitter.com/P04am7WREQ

— CNN Politics (@CNNPolitics) October 9, 2018
Breitbart.com publishes a current "Rap Sheet" of violence and harassment against President Trump's supporters and to date, there are over 600 documented offenses.
The left-wing intimidation tactics to silence free speech are outrageous and dangerous and Democrat leaders are a big part of the problem.