News
Protesters Target Republican Senators Over Open Supreme Court Seat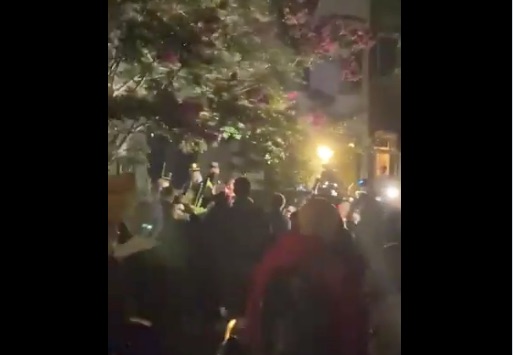 Protesters are targeting Republican Senate leaders over the possibility of President Trump filling a Supreme Court vacancy after the death of Justice Ruth Bader Ginsburg.
Early Monday morning, protesters were boisterous outside of South Carolina Senator Lindsey Graham's home in Washington, D.C.
Fox News reports:
Banging drums, shouting slogans and flashing lights, dozens of protesters amassed outside Graham's home in Washington in the early morning hours Monday as Capitol Police tried to keep them off the lawmaker's property.
So how did your Monday start? Stand with me against the mob: https://t.co/5iOnCoCB4e pic.twitter.com/nZzz14ngr0

— Lindsey Graham (@LindseyGrahamSC) September 21, 2020
HAPPENING NOW. Outside Sen Lindsay Graham's house in DC. Call to "wake him up." pic.twitter.com/PqQJoxsBMK

— Christina Bobb (@christina_bobb) September 21, 2020
https://twitter.com/KellieMeyerNews/status/1308037905022160898?s=20
Protesters also gathered outside of Senate Majority Leader Mitch McConnell's home in Kentucky over the weekend.
The New York Post reports:
About 100 protesters gathered outside McConnell's Louisville home on Saturday after he said he would push for a Senate vote on filling the seat with the presidential election is less than seven weeks away, the Louisville Courier-Journal reported.
Democrats are using intimidation tactics to pressure Senate Republicans from doing their job.
Protesting at the Senate or a public space is one thing but targeting homes is a different level of activism that is more personal and disruptive to an entire neighborhood.
No matter the reaction by protesters, President Trump is expected to name a Supreme Court nominee later this week.