News
Like Mother, Like Daughter? Guess How Much Chelsea Clinton Charges for a Speech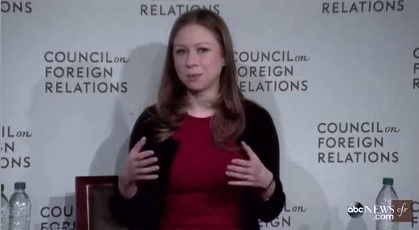 Like mother, like daughter? While Hillary Clinton receives criticism for charging hundreds of thousands of dollars for public appearances, Former First Daughter Chelsea Clinton collects some major pay days herself.
When the University of Missouri at Kansas City was looking for a celebrity speaker to headline its gala luncheon marking the opening of a women's hall of fame, one name came to mind: Hillary Rodham Clinton.

But when the former secretary of state's representatives quoted a fee of $275,000, officials at the public university balked. "Yikes!" one e-mailed another. So the school turned to the next best option: her daughter, Chelsea.

The university paid $65,000 for Chelsea Clinton's brief appearance Feb. 24, 2014, a demonstration of the celebrity appeal and marketability that the former and possibly second-time first daughter employs on behalf of her mother's presidential campaign and family's global charitable empire.
The punch line?
Chelsea only spoke for 10 minutes.
The schedule she negotiated called for her to speak for 10 minutes, participate in a 20-minute, moderated question-and-answer session and spend a half-hour posing for pictures with VIPs offstage.
It's not difficult to see why the Clinton campaign is struggling with credibility and relatability.