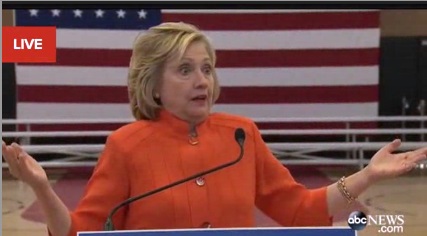 A new Quinnipiac University National Poll reveals the long-term damage done to Hillary Clinton's reputation due to the email scandal that never seems to end. As always, it is entertaining to watch the anchors and pundits of MSNBC uncomfortably coming to terms with the reality that Hillary is politically damaged goods.
The Washington Free Beacon reports:
MSNBC's Morning Joe reacted Thursday to the three most common words people think of when Hillary Clinton comes to mind being, in order, "liar," "dishonest" and "untrustworthy," according to a new Quinnipiac poll.

… "These are unprompted, by the way," MSNBC host Joe Scarborough said.
Watch the video here:
Also worth noting in the Quinnipiac poll findings:
Vice President Joseph Biden runs slightly better than former Secretary of State Hillary Clinton against leading Republican contenders in the 2016 presidential sweepstakes, and has the best favorability rating among top Republican and Democratic candidates.
Biden has said he will make a final decision on whether or not to enter the race by October 1.