News
Here Is a Highlight Reel of The Top Hillary Emails Found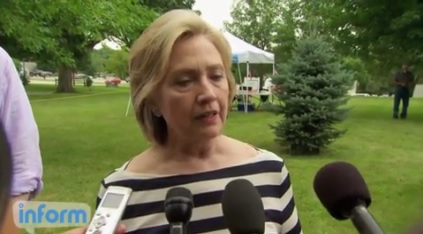 Politico has compiled a highlight reel of the Hillary emails you must read from the over 7,000 pages of email exchanges released this week.
Blumenthal emails on "vast right wing conspiracy"

With the subject line "H: Yes, there is a vast right wing conspiracy," Blumenthal forwarded an article from The New Yorker's Jane Mayer exploring how the Koch brothers had funded the tea party movement and right wing of the Republican Party.

"Ah, a little lite vacation reading!" Clinton responded in the August 2010 exchange.

Blumenthal emails on "post-midterms strategy"

On Election Day 2010, Blumenthal gave Clinton his take on the state of play after the midterms, in which Republicans would retake control of the House and John Boehner would ascend to the speakership.

"Boehner is despised by the younger, more conservative members of the House Republican Conference. They are repelled by his personal behavior," Blumenthal wrote, in part. "He is louche, alcoholic, lazy, and without any commitment to any principle. Boehner has already tried to buy the members with campaign contributions and committee assignments, which he has already promised to potentially difficult members."
A kind of ironic email discovery: Hillary and Blumenthal colluding with Media Matters to impeach Justice Thomas, after discussing the "vast right wing conspiracy" in other emails.
Clarence Thomas impeachment

Blumenthal shared a memo from David Brock [founder of Media Matters] in which Brock outlines the case for the impeachment of Supreme Court Justice Clarence Thomas on the grounds of revelations from recent reports in The New York Times, The Washington Post and Washington's ABC affiliate. "Brock memo here, have many more ideas on this. S.," reads the subject line.
Read the rest at Politico here.  The last one on Politico's list is priceless.