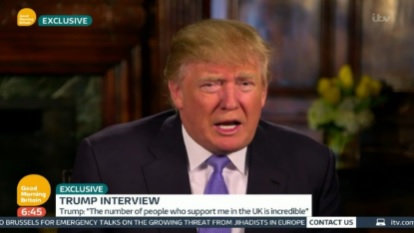 There have been lots of political accusations and personal attacks in the 2016 presidential primary cycle, but this is a new one.
Donald Trump on Tuesday alleged that Ted Cruz's father was with John F. Kennedy's assassin shortly before he murdered the president, parroting a National Enquirer story claiming that Rafael Cruz was pictured with Lee Harvey Oswald handing out pro-Fidel Castro pamphlets in New Orleans in 1963. A Cruz campaign spokesperson told the Miami Herald, which pointed out numerous flaws in the Enquirer story, that it was "another garbage story in a tabloid full of garbage."

"His father was with Lee Harvey Oswald prior to Oswald's being — you know, shot. I mean, the whole thing is ridiculous," Trump said Tuesday during a phone interview with Fox News. "What is this, right prior to his being shot, and nobody even brings it up. They don't even talk about that. That was reported, and nobody talks about it."

"I mean, what was he doing — what was he doing with Lee Harvey Oswald shortly before the death? Before the shooting?" Trump continued. "It's horrible."
This is not the first time Donald Trump has gone after the family of [score]Ted Cruz[/score]. Back in March, Trump re-tweeted an unflattering picture of his wife, Heidi Cruz. I guess the tweet was supposed to imply that Trump's wife is more attractive:
"@Don_Vito_08: "A picture is worth a thousand words" @realDonaldTrump #LyingTed #NeverCruz @MELANIATRUMP https://t.co/5bvVEwMVF8"

— Donald J. Trump (@realDonaldTrump) March 24, 2016
In response to this round of personal attacks, Ted Cruz gave a fiery press conference, calling Trump:
…a "pathological liar," "utterly amoral," "a narcissist at a level I don't think this country's ever seen" and "a serial philanderer."
When candidates are name-calling and sourcing their talking points from the National Enquirer, you know the level of political rhetoric has reached an all-time low.