News
Here's What Obama Really Thinks About ISIS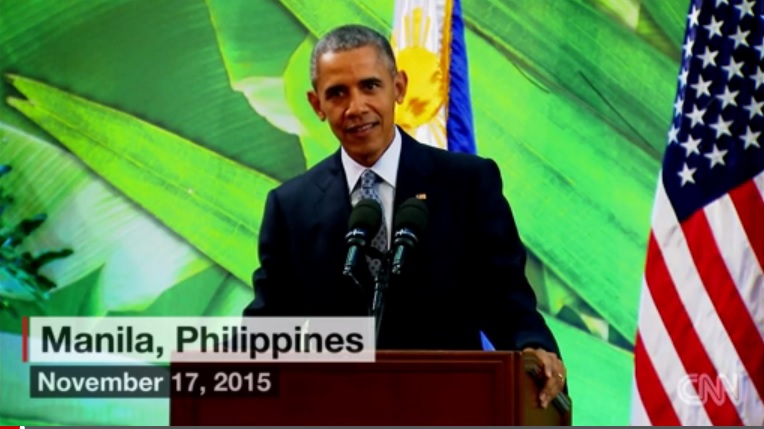 President Obama stuck his foot in his mouth once again talking about ISIS and the threat of terror in the United States and around the world. He spent about 10 days out of the country following the Paris attacks, and sounds so out-of-touch that even Democrats believe Obama is making U.S. citizens feel leaderless.
According to the Associated Press: 
Trying to reassure a nation on edge, President Barack Obama said Sunday the Islamic State group "cannot strike a mortal blow" against the U.S., and he warned that overreacting to the Paris attacks would play into extremists' hands.

…Since IS militants killed 130 in France nine days ago, Obama's strategy has come under repeated questioning. He dismissed the group's global prowess of IS and said, "They're a bunch of killers with good social media." Rejecting the notion of an existential threat, Obama said IS "can't beat us on the battlefield, so they try to terrorize us into being afraid."

…U.S. lawmakers are pushing legislation to tighten screening requirements for Syrian refugees; some Republican presidential candidates want to halt their entry. In Turkey and the Philippines last week, Obama pushed back on those proposals as un-American, drawing criticism from some who said he failed to grasp Americans' post-Paris fears.
As Judicial Watch has pointed out, there are almost 1,000 active ISIS probes in the United States. Obama is living in a dangerous theoretical world at this point. He is so preoccupied with implementing the purest progressive agenda that he has lost sight of reality and the real situation on the ground. He is putting political correctness at a higher priority than the safety of his own citizens. He has underestimated the threat of terror in the Untied States before, calling Al-Qaeda militants a "JV team." He's even admitted that his administration did not "yet have a complete strategy" when it came to fighting ISIS.
Americans aren't naive or stupid….we realize there is evil in this world, and living in the freest and most prosperous nation on the planet makes us a prime target for terror. But even scarier than ISIS is the realization that our Commander-In-Chief is asleep at the wheel.