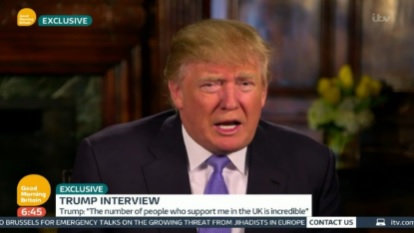 Which Candidate Do You Support in the Republican Primaries?
It turns out, the young man who tried to kill Donald Trump was in the United States illegally.
A man arrested at a Donald Trump rally in Las Vegas over the weekend told authorities he tried to grab an officer's gun so he could kill the candidate, according to court documents released Monday. The documents also showed that the suspect was in the United States illegally. He had overstayed his visa from the United Kingdom, KLAS reported. A complaint filed in U.S. District Court in Nevada charges Michael Steven Sandford, 19, with an act of violence on restricted grounds. A judge denied him bail at a court hearing Monday.

Authorities said Sandford went to a Trump rally on Saturday at the Treasure Island Casino and approached a Las Vegas police officer to say he wanted an autograph from Trump. The court document says that Sandford was arrested after grabbing the handle of an officer's gun in an attempt to remove it.

When Sandford was asked by a Special Agent why he attempted to grab the officer's gun, he replied "to shoot and kill Trump."
This kid was clearly disturbed, and shouldn't have been in the country to begin with because his visa was expired. Luckily, authorities were quick to act and prevented what could have been a devastating tragedy for the Trump family, as well as innocent bystanders at the rally.