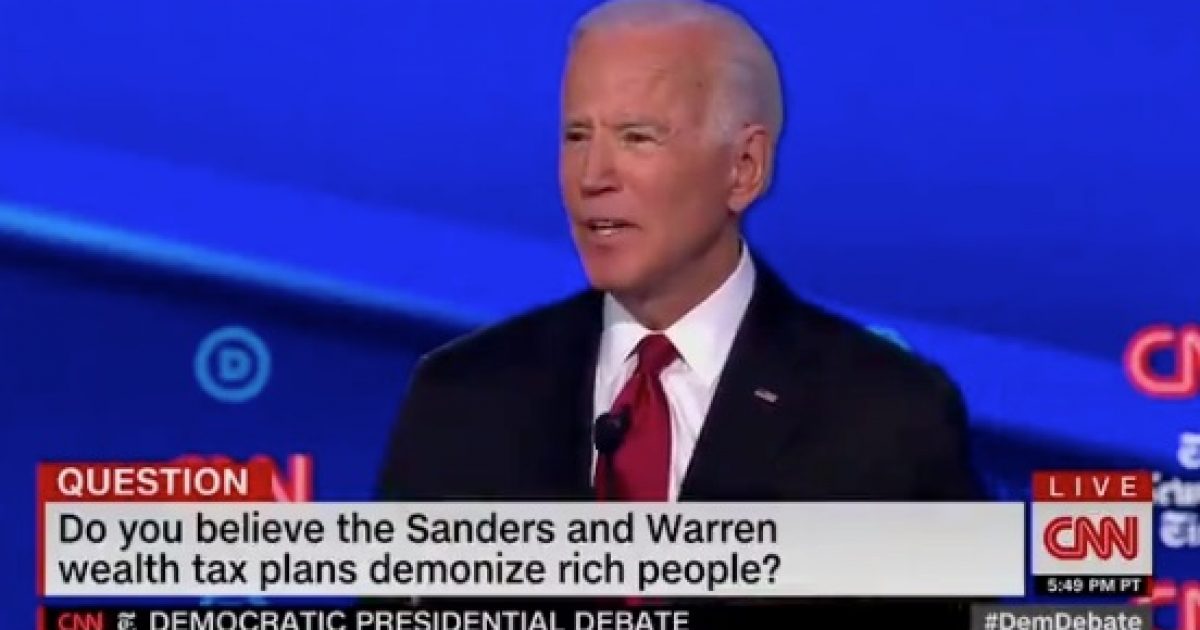 Former vice president and 2020 presidential candidate Joe Biden's campaign trail blunders continued on stage at the fourth Democratic debate.
Biden made several blunders during Tuesday night's debate including discussing his plan to "eliminate the capital gains tax," while in the same breath talked about people "clipping coupons in the stock market."
.@JoeBiden: "Clipping coupons in the stock market!" pic.twitter.com/o9BI7ZVUDD

— Sarah Dolan (@sarahedolan) October 16, 2019
This viewer gave an analysis of Biden's blunders on Twitter and remarked about his family saying, "It's sad his family should not be letting him debate."
He's so confused. Stumbling over words and making no since. Warren actually laughing. It's sad his family should not be letting him debate. @POTUS will destroys him in a debate. pic.twitter.com/CukJGD21nd

— Patricia Gear ? (@blazevszipper) October 16, 2019
During the presidential campaign, Biden's allies talked about the possibility of him scaling back his appearances because of his blunders.
However, David Alexrod, a former adviser to President Obama, disagreed.
This is bad advice. You can't cloister the candidate and win.
He either can cut it or he can't, and the only way he can prove he can is to be an active and vigorous candidate.
He's running for president of the United States, for God's sake!https://t.co/SCZmqVYapF

— David Axelrod (@davidaxelrod) August 15, 2019
There is also frustration among Biden's donors.
Since hitting the presidential campaign trail, Biden's donors are not happy with his performance during debates and public events.
Biden's top wealthy Democratic donors are also troubled about his campaign and recently met behind closed doors in Philadelphia, Pennsylvania, to discuss their concerns following the release of the third-quarter campaign fundraising revealing Biden is in fourth place among his Democratic opponents.
The Daily Caller reports:
Biden raised $15.2 million in the third quarter; however, Sanders raised $25.3 million, Warren raised $24.6 million and Buttigieg raised $19.1 million.
Biden faces a number of campaign challenges including his constant blunders, donor concerns, and questions over his son Hunter's foreign business affairs, all of which will have an effect on his poll numbers.